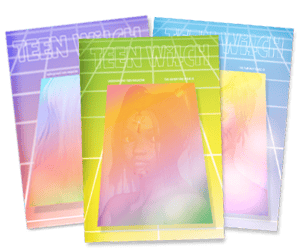 $

10.00
TEEN WITCH is a magazine that puts BOP and J-14 through a kaleidoscope, aiming to honor and give praise to the gay and trans youth underground scene. Essentially art-based, TEEN WITCH is inspired by sub-cultures, the Internet, Nickelodeon magazine and childhood nostalgia.
Issue #1 (The CRUSH issue)
SOLD OUT
♡ Mykki Blanco's 'Poetry Corner'
♡ Teen Witch trading cards
♡ Teen Advice with Mollysoda
♡ Alexis Penney's Twitter Crush
♡ Time out with Jenna Rose
♡ SEX & LOVE with TEAMS
♡ A Day with TEETH!!!
♡ Dealing with Glass Popcorn
♡ Hatsune Miku: Cyber Idol
♡ Steal Her Look: AAHHH!! Real Monsters
♡ Full color Pinups of SSION, TEETH!!!, Hunx, Alexis, Hatsune & More!
♡ Yard666sale, Gerlan Jeans & Sam2.0
♡ Unicornkid: 'Cartoon Boners & Cyber Crushes'
♡ Comics, Horoscopes & MORE!!
Issue #2: (The FANTASY issue)
featuring
♡ LE1F's Hair Makeover
♡ Going Mykki Blanco's Way
♡ PLANET KIER: Lady Miss Kier
of Deee-lite
♡ Steal Her Look: Rocko's Modern Life
♡ Pin ups of House of Ladosha,
Jamie Ryan Dee, Hot Sugar, Niko Da Ikon, Patric DiCaprio, AB Soto
♡ Trading Cards
♡ Fan Art by Yippywhippy, Simon Fortin, Grace Miceli & FANART
♡ Miley Serious' Video Club
♡ Comic Sans: Jane Mai
♡ Fantasizing about Patric DiCaprio
♡ Birthday666Slut
♡ Demashita! by Marina Fini
♡ Zombelle's Rules of Online Dating
♡ In The Clouds with Shock Diamond
♡ Did They Say That?
♡ Tube Teens
♡ Horoscopes
+ MORE!
Stickers with every order!
Issue #3 (The ADVENTURE issue)
featuring
♡ Crossing Hannah Diamond
♡ Whose Lips Are These
♡ Mitch Grassi: On My Way
♡ Ponibbi Bag Grab
♡ K Rizz: From K to Z
♡ Hanging with Brendan Jordan
♡ Brain Game with Cakes Da Killa
♡ Drink QT!
♡ Steal Her Look: Wild Thornberrys
♡ Pin ups of Jay Boogie, Hannah Diamond, K Rizz & Anamanaguchi
♡ Trading Cards
♡ Fan Art by JoJo Kim, Simon Fortin, Lindsay LaBarre, Dela O'Neal, Emily Bartz, Jimmy Hassett, Terrell Davis, Miq Hansen & Eliza Carnes
♡ 'Out of the Woods' by Marina Fini
♡ Hunk of the Month
♡ Doja Cat's Adventure Playlist
♡ Embarrassing Stories with GFOTY
♡ What's in Hari Nef's closet?
♡ Comic Sans: Otto Splotch
♡ Pullout double sided posters!
♡ Did They Say That?
♡ Horoscopes
+ MORE!
Full color
44 pages
6 1/2" x 9" (16.51cm x 22.86cm)
*PARENTAL ADVISORY/EXPLICIT CONTENT: Some subject matter is deemed explicit for minors. This magazine is not an actual teen magazine and is intended for audiences 16+.